All news
November 16, 2022
Experimental Museology Seminar Announcements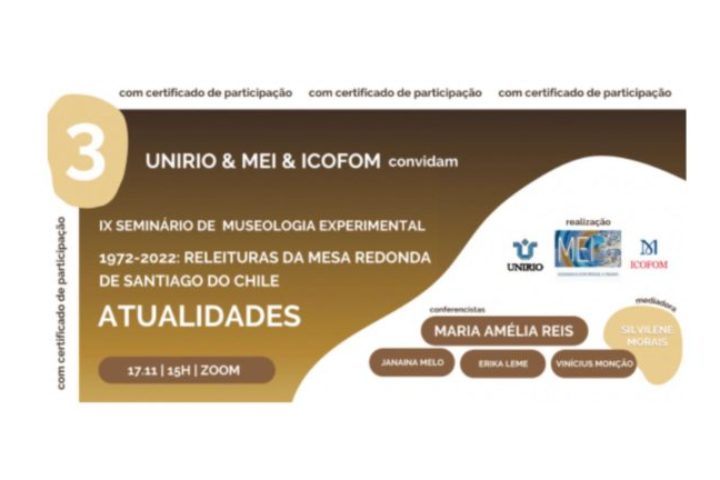 In its 9th edition, the Experimental Museology Seminar proposes to develop reflections and re-readings of the Round Table of Santiago de Chile, in commemoration of the 50th anniversary of this event, which was a milestone in the renewal of thinking and practices in museums and Museology.
The third cycle of the event will take place remotely, on the Zoom platform, on November 17, at 3 pm (GMT-3 time). The theme of this meeting will be "Current Events" and will feature the distinguished presence of Maria Amélia Reis (Federal University of the State of Rio de Janeiro – UNIRIO), Erika Leme (Federal Fluminense University – UFF), Vinícius Monção (UFF) and Janaina Melo (Belo Horizonte City Hall, Minas Gerais / UNIRIO), mediated by Silvilene Morais (UNIRIO).
Registration is free and is already open on the Sympla platform with access through the following link: https://www.sympla.com.br/evento-online/ix-seminario-de-museologia-experimental-1972-2022-releituras-da-round-table-of-santiago-of-chile/1764946

Participation certificates will be issued.